Group UNIVERSO ELECTRÓNICO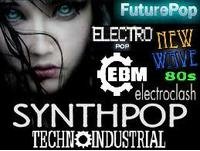 Subcategory: Electronic
Creation date: 17/03/2012
Description: Grupo de Salines FM de música electrónica de todos los tie... mpos, que pretende agrupar programas de radio y podcasts (no temas sueltos ni discos originales completos) cuyo contenido sea mayoritariamente la música electrónica en sus diversos subgéneros: Synthpop, Technopop, Electropop, Italodisco, Nu Disco, Futurepop, Electroclash, Indietronica, Techno Industrial, EBM, Cold Wave, Minimal Synth, Minimal Electronic, Minimal Wave, New Wave, Dark Wave, ElectroDark, Remember, New Romantics, New Beat, Drum\'n\'bass, IDM, Ambient, Breakbeat, ... la vanguardia tecnológico-musical de cualquier época y país. Sonidos electrónicos puros, pero también la mezcla con otros estilos como el pop, el rock... Un punto de encuentro para los Amigos Electrónicos usuarios de iVoox: si te gustan Kraftwerk, Depeche Mode y demás, estás en tu casa! Hazte seguidor de SALINES FM y disfruta de programas como DARK NIGHTS, DISCO MAXI 80\'S, COVERMANIA, MÚSICA EN VIVO... (http://www.ivoox.com/perfil-salines-fm-jose-m-castaneda_aj_10791_1.html ) More
Remember:
The proposed audios that fail to support disappear in 15 days this listing.
Each audio also counts as a vote. You have three votes per day.
Every day, the most voted audio of this section will go Top Rated Audios.
Group users
Propose audios to the group
Share in this group the audios that you likeElectronic.