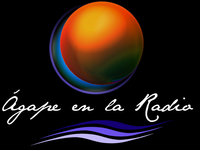 Subcategory: Faith, Philosophy and Spirituality
Creation date: 21/08/2012
Description: Existen millardos de espacios radiales en el Orbe. Permitann... os (por favor) presentarles uno entre ellos:\\\\\\\\\\\\\\\"Ágape en la Radio\\\\\\\\\\\\\\\". ¿Qué onda es esta?. ¡La mejor!. Hacemos radio con excelencia e incluimos en cada uno de nuestros programas el tema màs importante existente en toda la Creación. Hablamos del ser humano, de sus virtudes, de sus carencias, su transitoriedad en este mundo, pero también de su eternidad. Dios y Su Palabra está ineludiblemente presente en cada uno de nuestros espacios radiales y televisivos, puesto que Él (por medio de Jesús) le ha ofrecido a los seres humanos, la única vía alterna, para la salvación y la realización de un mundo nuevo, con una nueva generación de seres perfectos, que materializarán el deseo del corazón de Dios de que imperen la paz y la justicia en las naciones, y sobre todo; que los corazones y las mentes, sean completamente impregnados del Amor de Dios. Un cielo nuevo, tierra nueva, hombre nuevo. No es una utopía, es algo real. Le sugerimos a nuestros amables oyentes e integrantes de este grupo, tomar muy en cuenta esta importante premisa: Al que cree en Dios (y en el que Él envió, es decir, en \\\\\\\\\\\\\\\"Jesús\\\\\\\\\\\\\\\") ¡Todo le es posible!. ¡Bienvenidos a \\\\\\\\\\\\\\\"Ágape en la Radio\\\\\\\\\\\\\\\"! More
Remember:
The proposed audios that fail to support disappear in 15 days this listing.
Each audio also counts as a vote. You have three votes per day.
Every day, the most voted audio of this section will go Top Rated Audios.
---
There are no suggested audios at this moment.
Group users
Propose audios to the group
Share in this group the audios that you likeFaith, Philosophy and Spirituality.