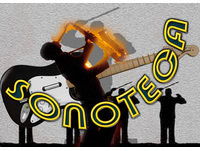 Subcategory: Weltmusik und anderes
Creation date: 21/02/2012
Description: Programas de radio (NO CANCIONES O TEMAS SUELTOS) que vayan ... de la música clásica a los grandes temas principalmente instrumentales de Jazz, Rock, Swing, Blues, Pop, BSO, sin distinción de géneros pero todos con una cosa en común: que sean de auténtica y contrastada calidad musical. Para quienes gusten de la buena música sin importar épocas ni gustos preconcebidos. More
Para poder escribir en el muro de un grupo debes estar registrado en iVoox.
---
---
---
---
---
Se ha añadido el audio Bob Marley a la lista de audios propuestos.
---
---
Somos un programa de radio dedicado a las bandas sonoras y el cine. Escuchanos en http://ar.ivoox.com/es/escuchar-bso-banda-sonora-original_nq_91917_1.html
---
---
---
Group users
Propose audios to the group
Share in this group the audios that you likeWeltmusik und anderes.